Art and Crafts in the Cook Islands
Visual art in the Cooks has exploded in recent times, with some of the Pacific's best artists providing an eclectic mix from contemporary abstract to traditionally inspired works.
The production of local artwork has skyrocketed since the inception of galleries promoting them in 2001 and these days, connoisseurs of art are familiar with such names as Eruera Nia, Loretta Reynolds, Ian George, Mahariki Tangaroa, just to name a few.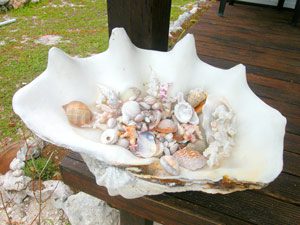 nternational workshops are being held to encourage new talent featuring such renowned Pacific artists as Mark Cross and Fatu Feu'u have inspired artists to explore new avenues of medium, which includes utilising materials of the past promoting an environmental theme.
The range of art covers everything from the carving, printmaking, painting to the fabulous tiviavaevae, something the Cook Islands have been renowned for, for decades. These workshops have seen a number of international exhibitions and the response has been so great that Cook Islands art is regarded as having the potential to create one of the largest export industries the tiny nation has to offer.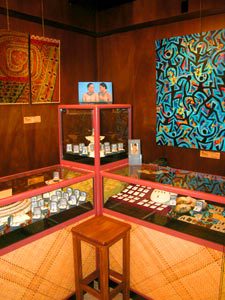 The pareu is the modern day garment regularly in use in the Cooks. It is a length of cloth about 2 metres long, which can be tied around the body in a variety of ways, Pareus are a practical garment for the hot climate, the light colourful fabrics wash and dry quickly and are equally good as picnic cloths or convenient towels.
Dresses, skirts and blouses of the same material are also popular with women, while men prefer the island style aloha shirts. Arts and crafts are readily available in the Cooks with the most popular souvenir items being the wooden carvings of the phallic demi-god 'Tangaroa'.
This fisherman's god is easily recognised by his stature – hands clasped over his protruding stomach, legs astride and a most distinguished genital organ. Early missionaries often removed his offensive parts, but today he stands intact often decorating the lounge rooms of resorts. Tangaroas image is minted on a special dollar coin.
uthentic handcrafts often come from islands, which specialise in a particular item. The omate shell and seed hat bands come from Mangaia, while finely woven pandanus mats come from Pukapuka. Materials used in weaving are palm and pandanus leaves, which are so well processed that the end product often has the appearance of a linen fabric.
One of the finest examples of local handicraft is the rito hat. These hats are available to tourists, but are not just a curiosity, they are a vital part of every Cook Islands woman's dress.
Woven baskets are always a popular item and are made from the fibre of coconuts. The attractively carved slit drums (pate) from the Northern Group islands are another good souvenir. If you are looking to collect souvenirs of your stay, then carved bowls, pandanus bags from Mitiaro, hand-made pottery and wooden storyboards from Atiu are all available at reasonable prices.
The relaxed island lifestyle has also seen the a sharp rise in the number of fine artists who are based on the islands. Visitors are welcome to view the works in the galleries, which range from tropical oil paintings, portraits and sketches to water colours of island scenes.
The Cook Island women are renowned for their craftwork particularly their Tivaevae. These are handmade bedspreads mainly featuring brightly coloured flowery patterns. Local women make and reserve these for special occasions. Beautiful local artwork and crafts can be found at the Women's Handicraft Centre, Akatikitiki Art Gallery, Island Crafts and Perfumes of Rarotonga, as well as in artists' homes and several of the hotels or small shops. Also not to be missed is the market on the waterfront at the western end of Avarua. This is open every day except Sunday. The traditional island cloth, tapa is enjoying a revival in its popularity. It is produced by beating the bark until the required texture is obtained and is decorated with traditional cultural patterns. While it's lack of comfort means it is no longer used for garments, it does make – and is often used for – a fabulous wall hanging.