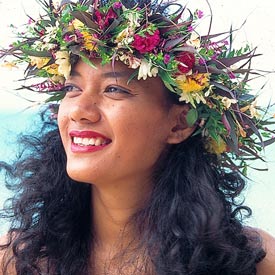 CLIMATE: The Cook Islands are renowned for their pleasant, temperate climate, being sunny most of the year round.
The cooler months are June to August, while November to March marks the warmer season, where occasional tropical showers can be expected. The drier months from April to November have an average temperature of about 26°C, whilst the warmer, more humid and damp season runs from December to March. During this season the temperature ranges between 22°C and 28°C. Severe weather is rare and infrequent.
POPULATION :Cook Islands (2016 Census): 17,459 Rarotonga (Capital): 10,337  
CURRENCY: The currency used in the Cook Islands is the New Zealand Dollar (NZD). The Westpac and ANZ Banks in Avarua are open Monday to Friday 9:00am – 3:00pm. In addition visitors can exchange travellers cheques and principal currencies at larger stores and hotels.
Banking facilities are also provided at the airport for currency exchange and cashing of travellers cheques. They are open for the arrival and departure of all International flights. Major credit cards are accepted throughout the island at most shops, and restaurants.
EFTPOS facilities are becoming more widespread throughout local businesses and cash advances on major credit cards are accepted and ANZ ATM machines have been installed, but are still infrequent.
RELIGION: Cook Islanders are devout Christian followers and Sundays is regarded island-wide as a day of rest and for them mandatory attendance at church. You will find few shops or tourist activities open on this day, other than petrol stations and half a dozen restaurants.
DRESS CODE: While The Cook Islands are informal and the dress is casual, it is recommended that very brief attire such as bikinis not be worn in shopping areas or public places outside of the beach and resorts, as it may cause offence in some places.