Air Rarotonga's comfortable Saab is almost full every time it touches down onto the runway of Aitutaki and it's no surprise. This tiny group of islands that sits within one of the world's largest lagoons is regarded by many as one of the most beautiful places on earth. What is surprising is the lip-twitching carved wooden sign above the 'official' entry point that says proudly "Aitutaki's International Airport".
International it is not, with just one check in (and out) counter under the solid roofed building that has no sides (which is great for cross breezes on a very hot day – if it's windy though, I'd advise through experience not to wear a short dress).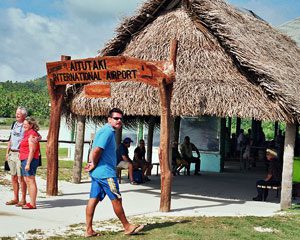 The dolly that drags two trailers of luggage across is as close as you'll get to a revolving baggage collection on this airport. The warm friendly greeting however, is internationally recognised. And certainly, visitors come from all over the globe, which could well mean the sign is a wry play of the Cook Islanders infamous laconic senses of humour. The main island can be got around in probably just over half an hour if travelling by car.
The roads are narrow and as with all Cook Islands where it is the main form of transport, look out for scooters if in a car and if on a scooter, look out for both cars and loose coconuts on the road.
The latter won't stay there long, but if freshly dropped on the tarmac, it has the same consistency as a giant cricket ball if you hit one at any sort of speed. Aitutaki is absolutely not a place you want to be if Ibiza TV-style night life is on your agenda of 'must-do' things. Even at the resorts, New Zealand's best loved colloquial "joke", the song Ten Guitars will often be played to the accompaniment of a well-plinked ukulele.
But the romance of the Pacific Islands iseverything it is cracked up to be here and if you and a loved one want the closest thing to being alone together on a desert island, then Aitutaki is a great place to try it out.
More than a few international stars were there during our sojourn, including the last greatest Aussie tennis ex-champ and a Kiwi All Black, looking for idyllic peace and quiet away from the world's eyes.

Perhaps the biggest shock is the fact that such a small island, with an equally small permanent population boasts some very big churches, many of which the square footage of would not look astray in one of the larger metropolitan parishes in any city of the world today.omance of the Pacific Islands is
 everything it is cracked up to be here and if you and a loved one want the closest thing to being alone together on a desert island, then Aitutaki is a great place to try it out.
And don't worry at all if you like to attend church, there are many denominations to choose from, from St Joseph's through to Latter Day Saints. And if by some chance your preferred denomination isn't on the island, there is even a church for that too. It is a shame that the island's native population is "increasingly decreasing" as a government report recently noted.
Many of the young islanders are heading off to the greener pastures of Rarotonga where work opportunities and a faster paced lifestyle beckon. But it is a haven for the semi-retired who wish to remove themselves away from the worries of the 21st century! Although having said that, it was quite ironic to see among the old rundown buildings, tied up goats, somnabulent pigs and innumerous free range chooks, no less than three internet cafes!
Be aware however that the costs of internet usage are quite prohibitive, some charging around $8 an hour. Do bear in mind the service is very slow, any major downloads will take considerable time.
There is some hope that this may decrease shortly with some expected upgrades being done, but it would be quite a revenue gatherer, especially with the slowness of the Cook Islands net facilities, (don't bother thanking Telecom, who holds the telecommunications monopoly with a tight fist), so I wouldn't hold my breath.