Driving and Transport in the Cook Islands
Rarotonga is an unusual place, everything runs to island time here and you find within 24 hours, so too are you. The island is easily navigable, with a ring road that runs all the way round it, so if you accidentally go past your destination, don't worry, you'll get there eventually by continually following the road round again!
Although by the end of the first week it does feel a bit like you are navigating a giant roundabout. While narrow and following the coast, there are other roads which run parallel to it and closer to the mountains. One in particular has an amazing history, the Are Matua, which is the old road of Toi, it was originally built – and paved! – around 1200 years ago by the famous chief of the same name, using flat basalt rock. The road was built wide enough that two warriors could trot side-by-side down it.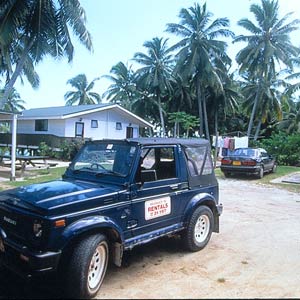 While it did not go all the way round (stream crossings and other geographical oddities made it impossible) it still is one of the oldest paved roads built in the Southern Hemisphere. The road is still in evidence in many areas.  You can circle the island on the Ara Tapu sealed road, through the villages and past the beaches; or you can take the older inland road, which winds through fields of taro, pawpaw, bananas and local farmlands.
For most tourists, the choice of the hourly run bus or very cheap motor scooters is the preferred method of transport, although rental cars and jeeps are available.
Public transport
The "Island Bus" offers a convenient low cost methosd of transport, operating regular schedules around the island (in both directions). It will pick you up and set you down anywhere on request.
For those unsure of which side of the road to keep on, driving is on the left hand side of the road and you are required to have a current Cook Islands Drivers Licence. The one aspect you will get used to, if you don't become a statistic yourself, is that most of the transport on the island is scooter or motorbike.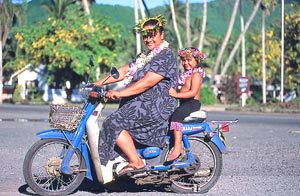 You can hire cars and there is a very good public transport system, but by and large everyone who lives on the island owns a bike and this is by far the most preferred mode of transport. The speed limit is 40kms an hour and it does make sense – you are not required by law to wear a helmet or protective clothing on these and the natives can take risks when shooting out of their respective driveways, so it does pay to have eyes in the side of your head as well.
Even babies get hauled along this way, tied to Mum or Dad via a brightly coloured pareu (sarong). And don't forget to watch out for the dogs. In fact, this is the only place I've seen that at regular intervals along the road you will see the sign "dog crossing".
Do bring your drivers licence because you will need it to hire a car and the Cook Islands do prefer you to pay $10 for a Cook Islands license, which last 12 months. Many tourists, including this one, get a license simply for the souvenir value.
For something absolutely different, try a Scootcar – which is a three wheel motorcycle/golf cart which is capable of good road speed. There is room for two, side by side and you can be covered if it rains. They are a little on the expensive side to hire at around $50 a day, but for a day's fun, it's well worth the investment.