Aitutaki Travel and Holiday Accommodation
Kia Orana
 
Conveniently set on the Western shores of Aitutaki, Rinos Motel is the ideal accommodation option for travellers looking for a unique and friendly place to stay.
Were we are located is right on the beach.
All rooms are Self-contained and Serviced. 
All rooms have cooking facilities and refrigerators.
This is a bonus offering you the choice of dining in or eating out.
A Washing machine is available on site for guest use.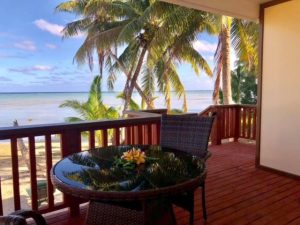 The units have differing configurations to suit couples or family groups.
The Sun. The Sand and Relaxation
Good swimming spots are never far away as the water here is very shallow. However, this is one of the best spots to work on a tan, listen to the calming sounds of the sea or basically as a saying goes here on Aitutaki … Chillax.
Whatever your travel or holiday plans may be, RINOS is a must experience to add to your itinery.
An amazing gem in your Rarotonga-Cook Islands experience.
Location. Easy access. Many choices
Rinos Motel is centrally located and has easy access to many an opportunity of things to see or do. Located within walking distance to the Township, Post Office, Banks and Central Market. It is a popular choice for not only families and lone travellers, but also for couples looking to escape their busy lives and to enjoy all that Aitutaki has to offer from the warm tropical weather to the stunning lagoon.
Be Mobile. Hire It Here
Located just across the road is Rinos Rentals which offers standard rental vehicles to suit your requirements including scooters, bikes, cars and bicycles.
Check out… what to do… and… must see attractions… while staying at Rinos Motel
At Rinos Motel we go the extra mile to ensure you enjoy your stay to the full
Offering these services…
 Hiring of cars, bikes and scooters
 Access and arrangement of tours and activities
 Airport transfers
 Walking distance to cafes and market
 Continental Breakfast
And more…
WELCOME… Book, Relax, Enjoy