History of the Cook Islands
To be found on the world map between French Polynesia and Fiji, appearing as little dots scattered around the Pacific Ocean, the Cook Islands consist of 15 beautiful islands and atolls of very different size and appearance.
The actual land area of the Cooks is surprisingly small, with no more than 240 square km. What the islands lack in land size, they more than make up for in being so widespread over the Pacific Ocean, covering an area of nearly 2 million square km. The total population of the Cook Islands is (approximately) 19,000 people.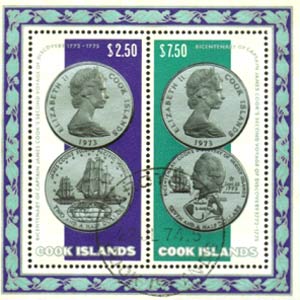 The fertile Southern Group – which includes the main island Rarotonga, counts for nearly 90% of the land area and people of the Cook Islands. Rarotonga is the largest, and Takutea is the smallest of this Island Group.
The earliest days have not been well documented, but the first inhabitants of the Cook Islands are believed to be part of the the last wave of Polynesian Migration from Asia that started around 1500BC. The northern island of Pukapuka was the first island of the Cooks to be discovered by Europeans, as it was sighted first by the Spanish Captain Alvaro de Mendana on August 20, 1595.
It is documented that Captain Pedro Fernandez de Quiros, also from Spain but Portugese-born, stopped for provisions on Rakahanga on March 2, 1606 but after that brief visit, it took another 150 years before there was any registered contact again between European explorers and the Polynesian people that settled in the Cook Islands. The next encounter dates back to the well documented voyages of the English Captain James Cook.
Cook and his crew actually only ever came to shore on Palmerston Island, but the well-known Russian cartographer and explorer Adam Johann Von Krusentstern changed the existing name of the island group (which was Hervey's Islands) in the year 1824. This was nothing but a tribute to the great navigtor, as James Cook was killed in Hawaii in 1779.
Christianity came to the Cook Islands in the 1820's, when reverend John Williams of the London Missionary Society arrived on Aitutaki, and later moved to Rarotonga. Gradually, the mission spread and the church was soon established troughout the region. Today, many Cook Islanders are deeply religious and go to church each Sunday.  
An Imperial Order in Council in the New Zealand Parliament on May 13, 1901, permitted the annexation of the Cook Islands to New Zealand. This came into effect on June 11, 1901. The Administrator of the Government of New Zealand signed the Proclamation to declare the Cook Islands a Self Governing State after adoption of a Report by the Cook Islands Legislative Assembly, on August 4, 1965.
Albert Henry, leader of the Cook Islands Party, was elected as the territory's first prime minister.Since then, the Cook Islands a self-governing parliamentary democracy in free association with New Zealand.