Shopping in the Cook Islands
Shopping is relaxed in the Cook Islands, with plenty of variety and great bargains to be had. The main shopping area is in Rarotonga, located in downtown Avarua.
While you won't find antiques or haute couture clothing here, you will discover the lustrous and beautiful black pearls which the Cook Islands are renowned for, handicrafts of excellent quality, colourful clothing and electrical goods at very reasonable prices.
Retail shopping hours are normally from 8am to 4pm during the week and from 8am to noon on Saturdays. Do remember that almost everything is closed on Sundays, which are regarded as days of religious observation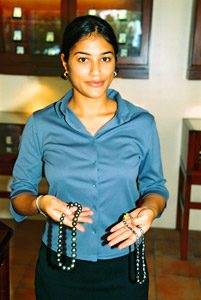 ome resort and village shops are open during the evening and on Sunday and the airport shops are open for international flights. The Cook Islands way of selling is relaxed and friendly and most of all helpful. In fact, the retailers in general are extremely obliging and are inclined to refer you to another shop if they think a certain item will better suit your needs. You will rarely find here sellers who try to push their wares at you and bargaining is not an accepted custom in the Cook islands.
The duty free traders are mainly centered in Avarua with a few shops in resorts and at the airport. The several duty free shops offer an array of competitively priced goods ranging from cameras, watches, stereos, fine china and famous brand perfumes.
There are also a number of smaller island-style general stores where you could purchase some of the tropical jams and preserves which also make inexpensive gift items.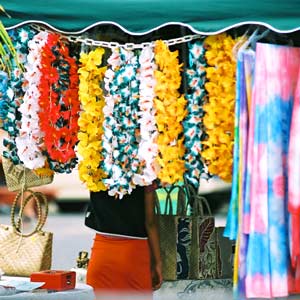 Other specialty stores in Rarotonga include fashions, gifts, stationery, chemists, camera shops, arts and crafts and of course exquisite pearl shops. Mother of pearl and other highly polished shells make distinctive pieces which are often admired. Black and red coral also make popular jewellery items, whether locally produced or imported they make most unusual forms of jewellery.
Rarotonga is blessed with many fragrant and exotic flowers and these are used in locally produced perfumes, oils and soaps. The most fragrant scents are tipani (frangipani), tiare (gardenia), and pitate (jasmine). The islands' handicrafts are highly prized. Wood carvings, fine grass skirts and baskets are all locally produced.