Swimming in the Cook Islands
The Cook Islands has a diverse range of areas for all water-based activities. Some bays are perfect for swimming, while some have an abundance of rocks and make excellent snorkelling sites. All bays are small.
You'll find fine snorkeling in the southern lagoon near the village of Titikaveka where a shallow channel off the sandy beach leads to coral heads populated by schools of small trevally.
 The most favoured swimming place and also the one where you'll see the most action from windsurfers is Muri Beach, where you can wade to four islets lying just offshore. Many restaurants are close by, so its a great place to spend the entire day.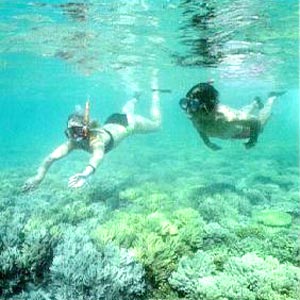 Nagatangiaa is another excellent site for windsurfing and some surfing, the latter being a sport which is not as popular owing to small bays and small wave activity. It is is increasing in popularity, especially near Avarua, Avatiu, Matavera and the wreck of the Matai.
If you are a yachting fan, then the main base is the Rarotonga Sailing Club, at Avatiu Harbour (Avarua).