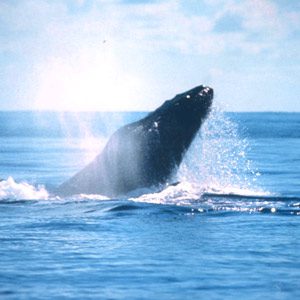 Humpback whales visit the Cook Islands (mostly Rarotonga and Atiu) from July to October and come right up to the reef which in places is just 10 metres from shore. The best place to view the whales is on the west coast of Rarotonga at Black Rock and on the north coast of Rarotonga at Paradise Inn.
The Whale Outreach Organisation for the Pacific region is based in Avarua on Rarotonga and a new and colourful interpretive centre has been established to educate people about the whales and their habits and to monitor sightings.
Visitors to the Cook Islands Whale Education Centre will be introduced to the fascinating world of whales and dolphins and experience a plethora of awareness, knowledge and fun. The centre offers hands on educational activities, extensive outreach presentations, videos, guest lecturers, visual displays, posters, murals and photographs thereby teaching environmental awareness, the protection of ecosystems and ultimately all life in the sea.
Whale Outreach discourages people from observing whales from tour boats and in particular those that encourage diving with whales.